Writers, channel flippers, and everyone in between,
We're glad you found us! And we're extra glad you're interested in submitting, because we'd love to publish your work. 📺
Syndicated is currently seeking submissions for:
Personal essays
Narrative nonfiction
Thinkpieces
Overanalyses
Photography
Illustration
Where to send.
All submissions should be emailed to submit@syndicatedmagazine.com.
What to submit.
Anything related to TV! No, really—that's our only requirement. Whether it's a hot take on the representation of mental illness on television, a love letter to The O.C.'s Seth Cohen, or a savage takedown of Westworld, we'd love to read your TV-related experiences/thoughts/concerns. We're also very interested in all kinds of visual media to accompany our writers' pieces.
What about Seth Cohen/Ryan Atwood fanfiction?
Though we would never discourage anyone from writing such a glorious thing, we're unfortunately not in the market for any kind of fiction right now, fan or otherwise. (But feel free to send anyway—our pervy editors will read it and love it.)
Length.
Submissions should be between 500 and 4,000 words.
$$$.
Unfortunately, we are but a fledgling (see: broke) startup publication and cannot offer compensation at this time. However, we CAN offer exposure, fun, and a safe outlet for your *inhales slowly and deeply* feelings. And, truly, what's more valuable than that?! Right . . . ?
Columns.
Because we love consistency and catchy names, we also have ongoing columns! Please include the name of the column you wish to submit to in the subject line of your email.
Bottle Service | A TV fanatic revisits one of their favorite bottle episodes of TV, evaluating it within the context of the entire show and providing additional thoughts/feelings/insights.
Backseat Binge | While everyone else is binge-watching the newest season of House of Cards, this writer is bingeing something else no one is talking about (like Real Rob or The Ranch, god help them).
Over & Out | A close examination of a series finale, whether it was incredible or a total letdown. Did it ruin the whole series for you, or did it cement the show as a classic? And how did that make you feel?
Syndicated Sit-Down | An interview with someone in the TV industry, a TV critic, a TV superfan, a— You get it.
Your rights.
They're in constant jeopardy every day because unfortunately that's just the world we live in—but Syndicated ain't about that. Authors and artists retain all rights to their work; we'll simply publish it on our website and on social media. Cool? Cool.
This submissions page is just too. d*mn. long.
You're so right, and we're so sorry. Here's a good Office GIF for your patience: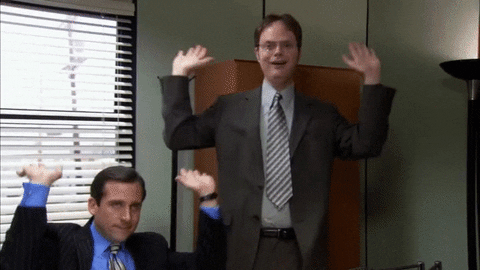 Can you get a cookie?
No, stop being ridiculous! We CAN give you an author bio though, so be sure to send over your preferred name + a few tidbits about yourself.
Broadcast your story.
We're here to help you do it. So get weird. Get personal. Get deep. And most importantly, force a TV show or character or quote or anything into it somehow because that's literally why this online magazine exists.