Community, Dan Harmon's NBC turned short-lived Yahoo! Screen comedy about a study group full of misfits and television meta commentary, had an imperfect run. Its first year was funny, but it stuck to more of the stereotypical half-hour sitcom tropes it often parodied than it may have liked to admit. Season one was followed up by two years of increasingly brilliant episodes that furthered the ever-growing mythos of Greendale Community College. It was always a little too out there to catch on to the mainstream and yearly faced the looming reality of an impending cancellation—but finally, the show was renewed for a fourth season, only to be struck a crippling blow in the firing of the series' creator.
I'm not going to kid myself by saying NBC's decision wasn't justified; listening to Harmon's podcast, Harmontown, or reading his rambling breakdown of every season two episode for The A.V. Club point to the pitfalls of his drunken grandiosity. And yet, when the show returned sans its creator, something was missing. I honestly enjoy the fourth season a lot more than most people (and even more so on my recent complete marathon of the series), but something about it did feel off at the time. That's why it wasn't surprising to find out, with the announcement of its fifth (and final) season for the network, Harmon had been rehired. Only now with Harmon's return came the announcement that series regular Chevy Chase had left the show and Donald Glover would be leaving as well after the first few episodes of the season. Even through all of this, the show in that year came back sharper than ever. Writing year four off as a "gas leak year" and adding John Oliver and Jonathan Banks to the shrinking cast, it came back with a fire under its ass and something to prove.
So when NBC did give Community the ax, I was heartbroken. Could I see it coming? Of course, but I was never willing to give up on this little show that could. Its surprise pickup by Yahoo! Screen months later left me looking like a dog with its head cocked. Yahoo! had barely dipped its toes into original content, with a forgettable sitcom about basketball. Would it really do Community the justice it deserved? The answer was, surprisingly, yes. With an extended runtime, the episodes had more room to breathe, and new cast members Paget Brewster and Keith David fit right into the constantly morphing study group.
But even this wouldn't be enough to save Greendale, as the acquisition almost bankrupted the company, and the show ended before its six seasons could become the #sixseasonsandamovie it had so long desired. But in those last few moments of its final episode, aptly titled "Emotional Consequences of Broadcast Television," when the show ends with a cheeky board game commercial narrated by the creator himself, I sobbed. I wept almost as much as I did when I finished Six Feet Under for the first time, because even though I knew even the possibility of a Community movie existing was years away, I was so happy to have gone along for its rocky journey in the first place.
Rewatching the finale this week in full for only the second time since it originally aired, I felt every single emotion all over again. The episode is such a perfect look inside of Harmon's brain that, even with all of the tumultuousness Community had experienced in the years leading up to it, it's hard not to feel like this was the perfect way for it to go out. Structured similarly to its third-year high point, "Remedial Chaos Theory," the finale looks forward to the seventh season it knows in its heart will never air. It allows each character to pitch what they'd like to see happen in their seventh year at the college, even as all of its component parts are getting ready for their futures away from it.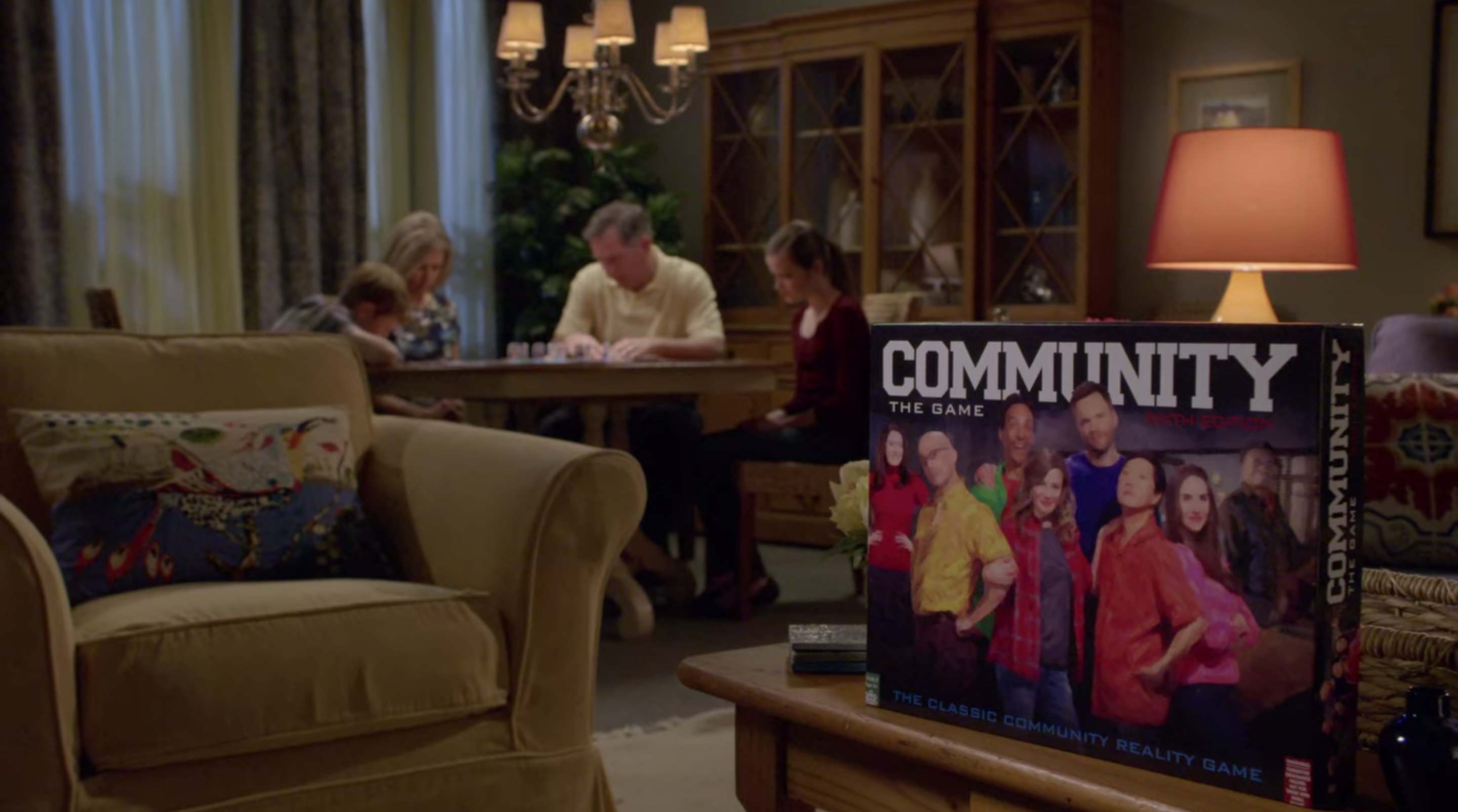 Image: Yahoo! Studios via Netflix
Abed (Danny Pudi) bemoans the futility of the idea of a seventh season of the meta TV show he'd framed the series as all the way back in the pilot. He gives the perfect monologue about the comfort and imperfection of the medium, after scripting a scene including the return of departed character Shirley (Yvette Nicole Brown) that is tonally perfect without including a bit of actual dialogue. The dean (Jim Rash) gets even more meta by dipping into some of Harmon's own self-obsession with race and racism, which the group correctly calls out. And a pitch by Chang (Ken Jeong) points to Harmon's real-life future outside of the show by including his Rick and Morty co-creator, Justin Roiland, in the guest spot of a lifetime as a maniacal talking ice cube. Britta (Gillian Jacobs) pitches a world in which Greendale has moved to sea and become its own nation. Frankie (Paget Brewster) gives pitching a shot before quickly realizing she doesn't actually grasp the concept of what they're doing. Jeff (Joel McHale) pitches any number of season sevens, ranging from the sweet evergreen idea of the whole group becoming teachers at the school to a police procedural where Annie (Alison Brie) returns from her new internship at the FBI to solve the double murder of Britta's parents…and the pitching goes on and on from there.
There's a lot to unpack in the episode. There are times when you're unsure if you're actually in the reality of the show or in another one of the ill-fated pitches for season seven. What you never doubt, though, is that you're experiencing an absolutely phenomenal episode of television. It's a love letter to the five years before it, full of plenty of callbacks to inside jokes from seasons past and peeks into the lives that its beloved characters will experience after they stop gracing our screens.
Now, in 2020, a Community movie existing feels closer than ever. During a Q&A following a live table read of the season five episode "Cooperative Polygraphy" over Zoom to raise money for COVID-19 relief, which included Dan Harmon and the original core cast sans Chevy Chase, the actors and Harmon expressed their excitement and willingness to reunite for a movie when the opportunity presents itself. Netflix now has global streaming rights to the show—every episode became available to watch on the streaming giant on April 1, 2020—and with Netflix's history of premiering franchise tie-in films like Breaking Bad's El Camino, the idea that it would help make Community's #sixseasonsandamovie dream a reality isn't so farfetched. But whether or not we ever get that movie, the season six finale will always be a representation of what the show did best: meta commentary, humor, and heart.