So…you're stuck in your living room during a global pandemic. Reasonably, you might be freaking out a bit, or a lot. Or maybe boredom is already starting to set in. There are plenty of things you know you could be doing—should be doing, even—but let's face it: All roads lead to a quaranbinge. If "Netflix and indefinitely chill" is indeed in your future, look no further than this coronavirus quarantine binge guide with tips that'll help you stay focused, better manage your mental and physical health, and ultimately just have a little fun.

Revisit a comfort show.
If the prospect of starting a brand-new show seems too daunting a task right now, choose one of your old faves to rewatch. Some studies have shown that nostalgia can help improve depression and lessen feelings of loneliness during a disaster, so wax nostalgic for your childhood favorite, your guiltiest pleasure, or the best season of that reality show you really loved. It might even feel like you're catching up with old friends.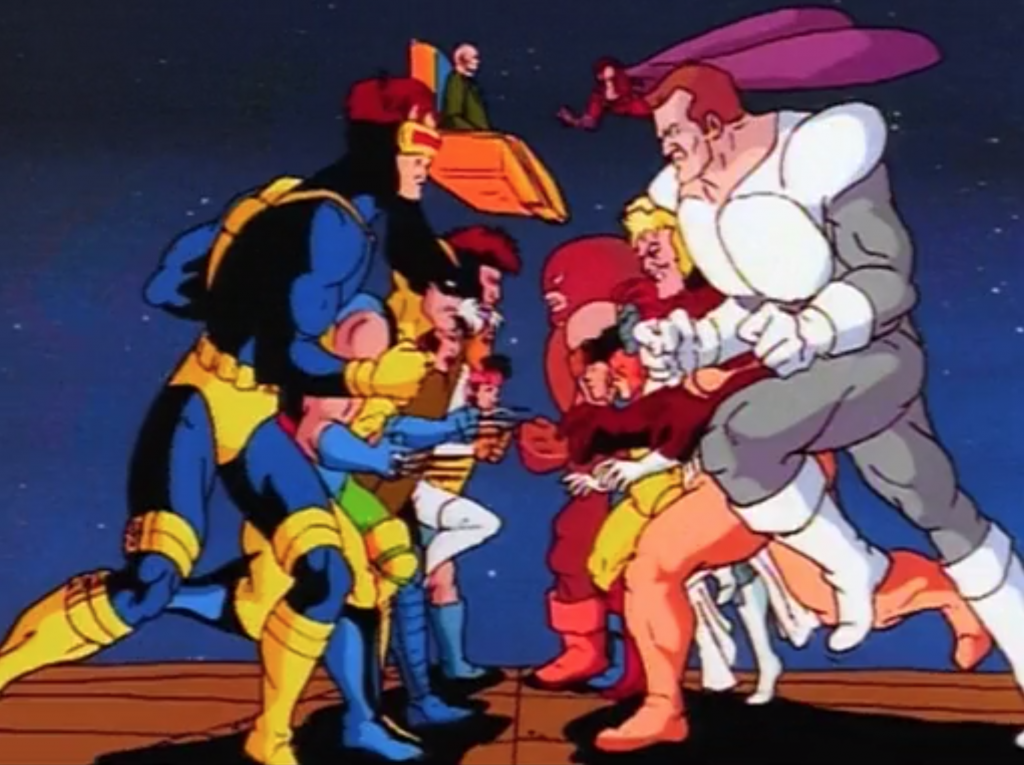 Image: Fox Broadcasting Company
We recommend: Gargoyles (Disney+), The O.C. (Hulu), X-Men: The Animated Series (Disney+), Survivor (CBS All Access), The Office (Netflix).

Start that more "challenging" show.
On the flip side, now is also a great time to binge your way through that one show you've been putting off because "it seems too complicated." We're talking time travel, doppelgängers, multiple timelines, and deep-rooted mythology here, folks. Since it looks like most of us will be self-quarantined for the foreseeable future, gone is the pressure to hang out with friends; gone is the luxury of travel. Instead, immerse yourself in a complex story chock-full of intricate character dynamics and rich world-building. You could even grab a notebook and jot down your thoughts or (cautiously) comb through Reddit or similar forums to discuss theories with other fans. By the time you finish, you'll be a certified expert.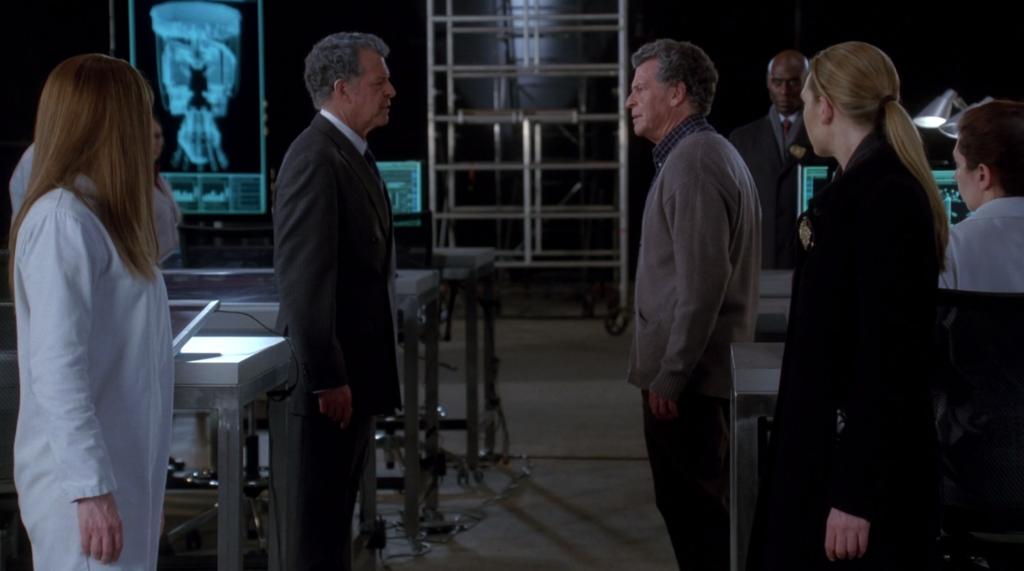 Image: Fox Broadcasting Company
We recommend: Battlestar Galactica*, Lost (Hulu), Fringe (IMDb TV), Dark (Netflix), Orphan Black (Prime Video), The Witcher (Netflix), Undone (Prime Video), Twin Peaks (Netflix, Hulu, CBS All Access), Westworld (HBO Go/HBO Now), The X-Files (Hulu), The Leftovers (HBO Go/HBO Now).

Watch together, alone.
Right now, many of us are discovering if being alone is something we love or loathe. The social butterflies among us might be going a little stir-crazy while self-quarantining, while the more introverted might be cheering from their couch. If you're part of the former group, try throwing a virtual viewing party: Decide on something to watch, choose a time that works well for everyone, and watch together over Skype, FaceTime, or the Netflix Party Chrome extension. Choose a mystery show none of you have seen that you can theorize about, or simply laugh together during your favorite comedy. Embrace the "silliness" of the virtual hang, as it might just relieve some feelings of loneliness or isolation. Bonus points if you make it a nightly or weekly routine!
If you're perfectly content in the bubble that is your house or apartment, first of all, kudos! Second of all, you should probably still at least try to make an effort to maintain human contact. Use your most recent binge as a talking point with a family member or friend who probably wants to hear from you and discuss anything but the bleak state of the world. Or, because there's likely not a whole lot of new things to talk about in your personal life, hop on a Discord server, a Kik public group, Reddit, or even a text message group chat to talk about whatever show you're getting into. It's a fun way to prolong the inevitable "So, everything kinda sucks right now, huh?" chats.

Take advantage of extended free trials.
With the huge number of streaming services now available to us, chances are there are several you haven't tried yet, and what better time to get the most bang for your zero bucks than now? Sign up for something new and binge as much as you possibly can before the trial's up—or maybe, just maybe, you'll love it so much you'll want to keep it. There's only one way to find out.
Here are some of the best trial deals we found recently:
📺 Acorn TV: 30-day free trial with code FREE30
📺 Crunchyroll: 14-day free trial of premium access
📺 Hulu: 30-day free trial
📺 Quibi: 90-day free trial with early email signup (launches April 6)
📺 Shudder: 30-day free trial with code SHUTIN
📺 Sundance Now: 30-day free trial with code SUNDANCENOW30

Create themed binge-watch lists.
Instead of committing to nine seasons in a row of the same show, mix it up by making lists of episodes centered around the same theme. For example, instead of watching Christmas movies at Christmastime every year, I rewatch all the Christmas party episodes of The Office (and, let me tell you, it definitely brings joy to my holidays).
You could do something similar and pick out all the "special" episodes from your favorite show (e.g., the Halloween heists from Brooklyn Nine-Nine or the paintball episodes from Community), or you could do a hodgepodge of episodes from several different shows (best series finales, musical episodes, wedding episodes, etc.). Have fun thinking up your lists, and consider sharing them online—maybe your friends will have some suggestions of their own!
You can follow along with our own lists, including the one below, over on Facebook, Twitter, and Instagram.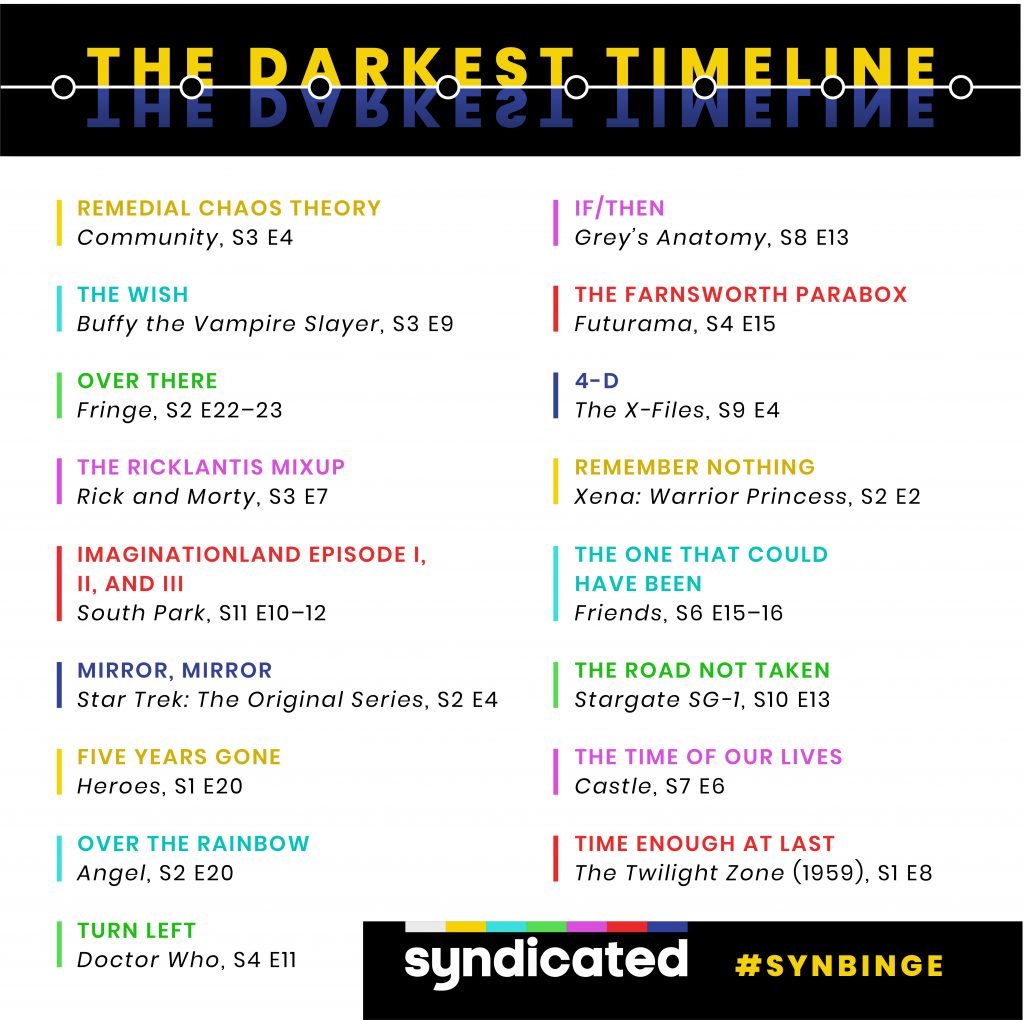 Laugh until it hurts.
They say laughter is the best med— Erm, actually, scratch that. Now's probably not the best time for that tired idiom. The point is, unless we're getting tickled against our will, we're probably happy when we're laughing. And because most live forms of entertainment are temporarily off the table, why not turn to our TVs for some instant endorphin action? Put on your go-to stand-up special, restart that half-hour comedy for the eleventh time, or give in to the classic sitcom laugh track (because even if it makes you cringe, it'll at least make the jokes funnier). You deserve a feel-good chuckle or several.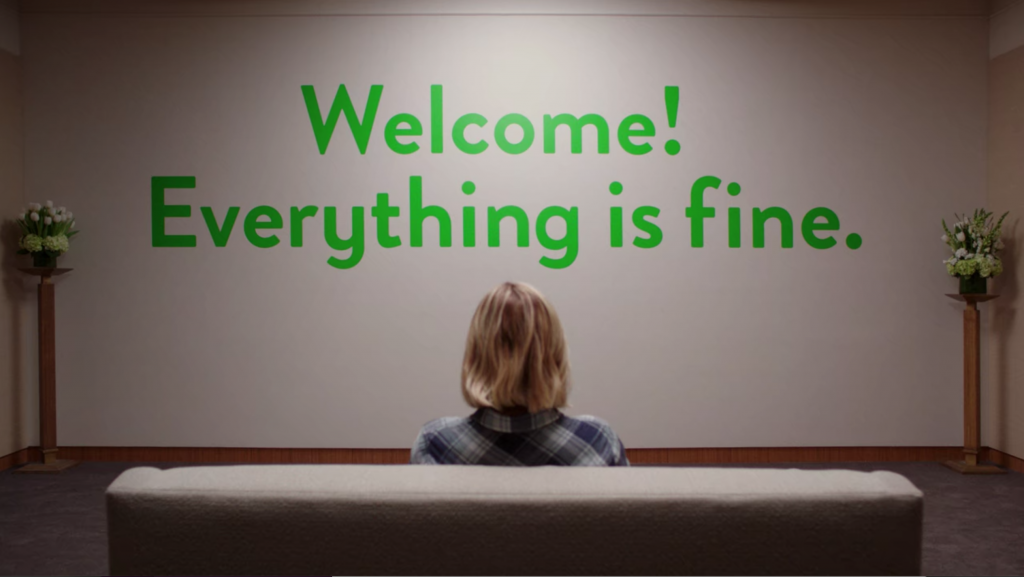 Image: NBC
We recommend: Parks and Recreation (Netflix, Hulu, Prime Video), Brooklyn Nine-Nine (Hulu), Rick & Morty (Hulu), Ali Wong: Baby Cobra (Netflix), The Good Place (Netflix, Hulu), I Love Lucy (Hulu, CBS All Access), Superstore (Hulu), It's Always Sunny in Philadelphia (Hulu), John Mulaney & the Sack Lunch Bunch (Netflix), I Think You Should Leave with Tim Robinson (Netflix), Broad City (Hulu), Bo Burnham: Make Happy (Netflix).

Face your fears head-on.
Right now, everyone's processing the effects of the coronavirus pandemic differently, probably falling somewhere on a scale of This Too Shall Pass to Having Daily Anxiety Attacks. Wherever you land, know there's power in confronting reality—including really messed-up situations like the one we're all in now—head-on (only if you feel mentally ready, of course). For that reason, watching some dystopian dramas that hit extremely close to home might actually offer some peace of mind at the moment—and recent data has shown that many people are doing just that already.
Check out a docuseries about pandemics to help you stay better informed, or start an over-the-top zombie thriller to ease your mind after you think, Well, at least that's not what's happening.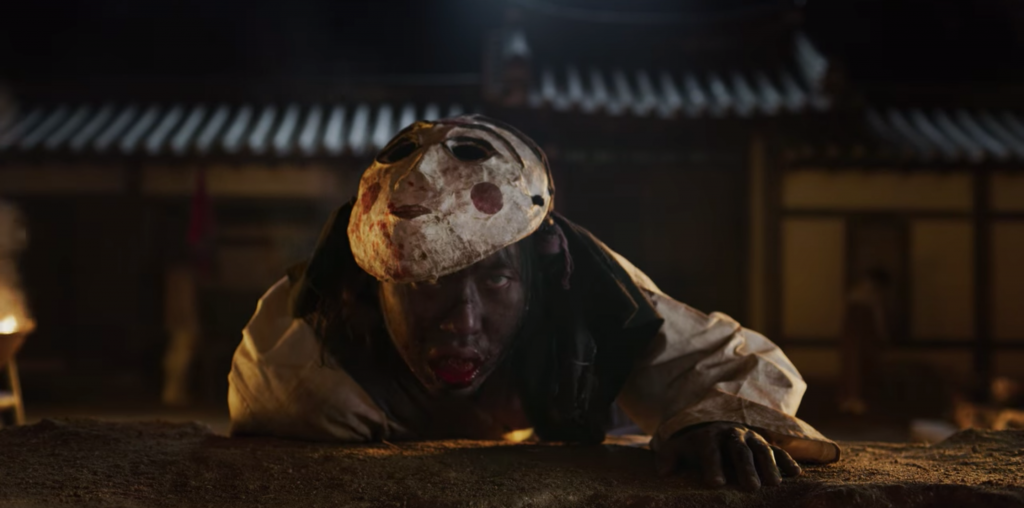 Image: Netflix
We recommend: Pandemic: How to Prevent an Outbreak (Netflix), The Walking Dead (Netflix), 12 Monkeys (Hulu), Kingdom (Netflix), Helix*, The Strain (Hulu), Jeremiah*, The Stand*.

Let the binge inspire you.
If streaming your favorite shows is all you need to do to get by right now, more power to you. But if the stagnancy of lying on your couch all day and all night starts to bring you down, try to instead let those stories you've been consuming get your creative juices flowing.
If you enjoy writing, jot down some of your own story ideas. Maybe they'll turn into a spec script, a novel, fan fiction, or something else entirely. Or try journaling about the show you just watched: Which character do you most relate to? How do the show's themes connect to your life? Exploring these topics could lead to a personal essay or two that you can submit to a publication like the one you're reading right now. If you're more of a visual artist, doodle your favorite character or scene while you watch, design a new poster or infographic for the show, or practice hand-lettering a meaningful quote. Then, if you feel comfortable, post your creation(s) on social media or on a site like DeviantArt so the world can see, thereby inspiring others to make something too.
From learning to play a show's score on your favorite instrument to experimenting with a character-inspired makeup look, the creative possibilities are endless. Just remember to try to have fun with it.

Don't get too lost in TV.
Binge-watching can be one of the nicest things we do for ourselves; it can help us decompress after a long day, bond with a partner or friends on the couch, or allow us to escape the stresses in our lives. But because there's just so much content available to us right now across an ever-growing number of platforms, it's also easy to get caught in a cycle of nonstop media consumption. Normally we don't have to spend too much time thinking about breaking up our binges, as the usual day-to-day responsibilities of going into the workplace, working out at the gym, or socializing with friends prevent us from becoming total couch potatoes. But now that we have to spend a lot more time at home, we should remember to take care of ourselves, both mentally and physically.
Next time you're hit with that CONTINUE WATCHING? message, maybe take a breather and do a quick guided at-home workout. There are plenty of videos on YouTube, or you can sign up for a free trial of more premium classes, such as Obé or Barre3, if you wanna get fancy. If you don't need a trainer's help, maybe make it a point to work out for the entire length of an episode while you watch. Or, if you have access to game consoles, play something like Ring Fit Adventure, Just Dance, or Beat Saber to get moving without sacrificing fun.
It's just as important to monitor your mental health as well. Distracting yourself with TV may be a good temporary fix, but don't forget to look inward from time to time. Try meditating before bed or using a mindfulness app like Calm or Headspace. Even just stepping away from the TV, your computer, or your phone at regular intervals and doing some deep breathing can make a world of difference.
*Available to rent or purchase on VOD.