Quibi, the new mobile-only streaming service nobody asked for, finally launched today after many months of web ads, social media ads, email blasts, Super Bowl LIV spots, 92nd Academy Awards commercials, and so on. Well before it even launched, Quibi shockingly raised nearly $2 billion in just two rounds of investments, but is the hip new app really worth that much? 
After using the service for more than twelve hours, watching at least one episode of every launch-day show available, I can honestly say I don't know. There are many details I immediately loved about the app. It's the first time I've seen "nonbinary" as a gender option alongside "prefer not to say" on a registration form. The app's design is simple but sharp, and if you've ever used Tinder or TikTok—or any social media app, really—the UI is incredibly easy to navigate. And the app's "Turnstyle" function, which allows you to switch between portrait and landscape orientations simply by rotating your phone, works flawlessly—even with my phone's main auto-rotate feature turned off, it still worked without a hitch and felt way more fluid than said auto-rotate feature. Not to mention I got a whopping ninety-day free trial by preregistering, giving me ad-free access to all of Quibi's current and upcoming shows through July 5. 
But there's also a lot that could be improved. While easy to use, the Turnstyle functionality promises that you'll always miss something. Watching vertically cuts off the sides of every shot, providing a more claustrophobic experience full of close-ups, but watching horizontally cuts a bit from the top and bottom of the screen. It's maddening, but watching in landscape mode is a far better experience in my opinion. Quibi is also clearly targeted at teens, ones who spend most of their free time connecting on social media and watching (or making) TikTok videos. As a thirty-year-old, using the app felt like attending an eighteen-and-over concert IRL. 
Then there's the content itself. I can't point to a single show, scripted or unscripted, that feels wholly original. You'll notice in my reviews below that I compare many of these "quick bites," aka "Quibis," to other shows, and that's because many are lesser imitations of already popular series on Netflix and cable TV. And where the app succeeds with fun unscripted reality and game shows, it mostly fails with stilted, sometimes embarrassing scripted content. 
If you've decided to give the Quibi free trial a chance or if you're simply thinking about signing up, here's a helpful guide to help you decide what might be worth watching. 

SCRIPTED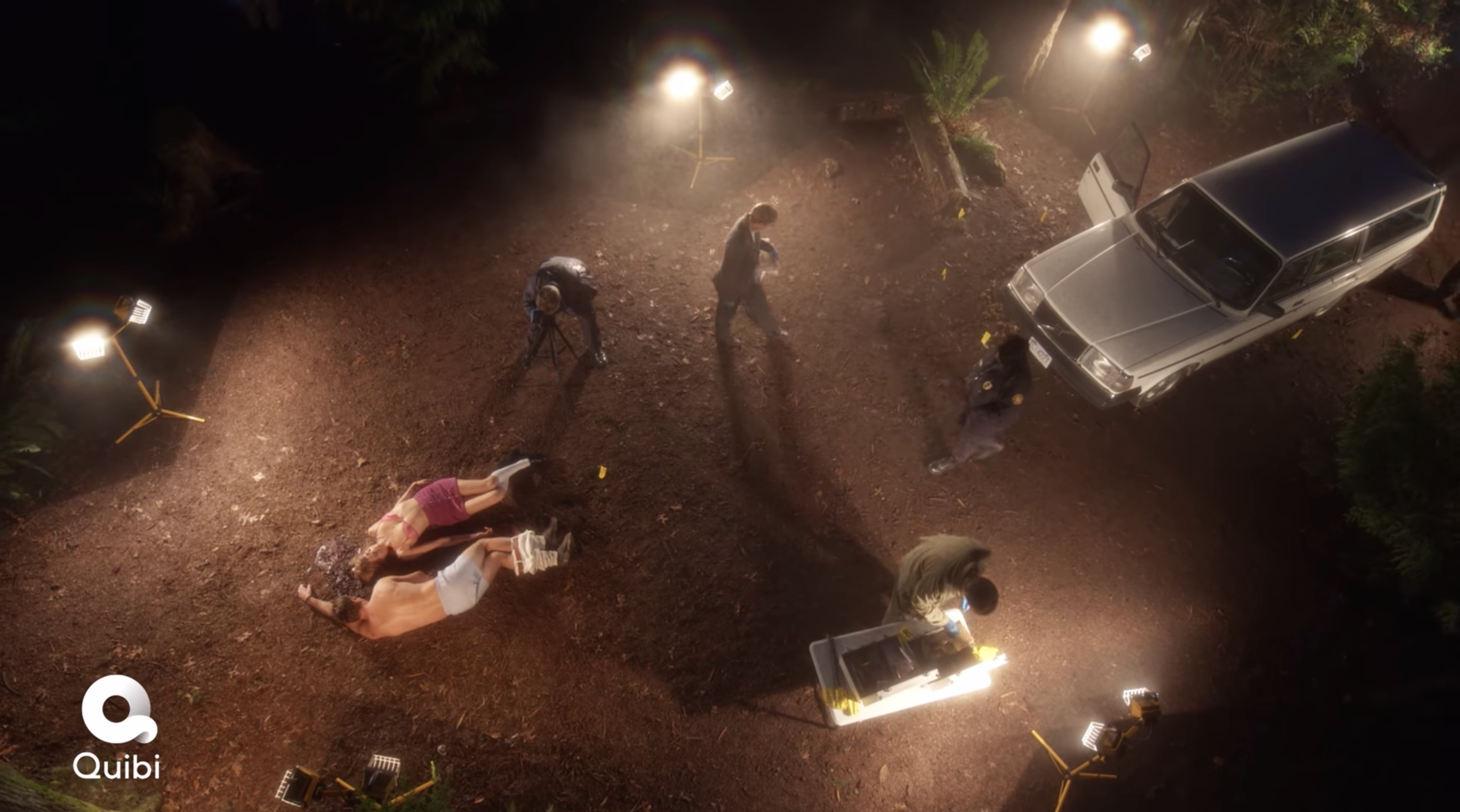 Image: Quibi
When the Streetlights Go On
Far and away the best scripted launch-day series Quibi has to offer, When the Streetlights Go On stars Chosen Jacobs (It [2017]) as Charlie Chambers, a teenager who finds the bodies of classmate Chrissy Monroe (Kristine Froseth) and teacher Steve Carpenter (Mark Duplass) in the woods during a bike ride. The first three episodes explore how the double homicide affects the residents of the small Midwestern city of Colfax, Illinois, including Charlie; Chrissy's sister, Becky (Sophie Thatcher); Chrissy's on-again, off-again boyfriend, Brad Kirchoff (Ben Ahlers); and police detective Darlene Grasso (Queen Latifah).
For a show meant to be watched on your cell phone, it's surprisingly really well shot, but you might not realize it if you're watching vertically. The writing and acting, though not Emmy-worthy, are also consistently good, with the lesser-known teen actors breathing life into otherwise semi-clichéd characters. Smartly, the show takes its time getting to know them rather than barreling headfirst into cliffhangers and mysteries, but knowing of Becky's impending death (as narrated by Charlie in the first minute of the show) adds a nice bit of dramatic tension as you watch her character develop.
When the Streetlights Go On is steps above a show like Pretty Little Liars and steps below one like Sharp Objects, but I imagine fans of each will at least find something to like in this show. After jumping from first episode to first episode in other Quibi series, I was excited to finally find one I actually wanted to keep watching right away.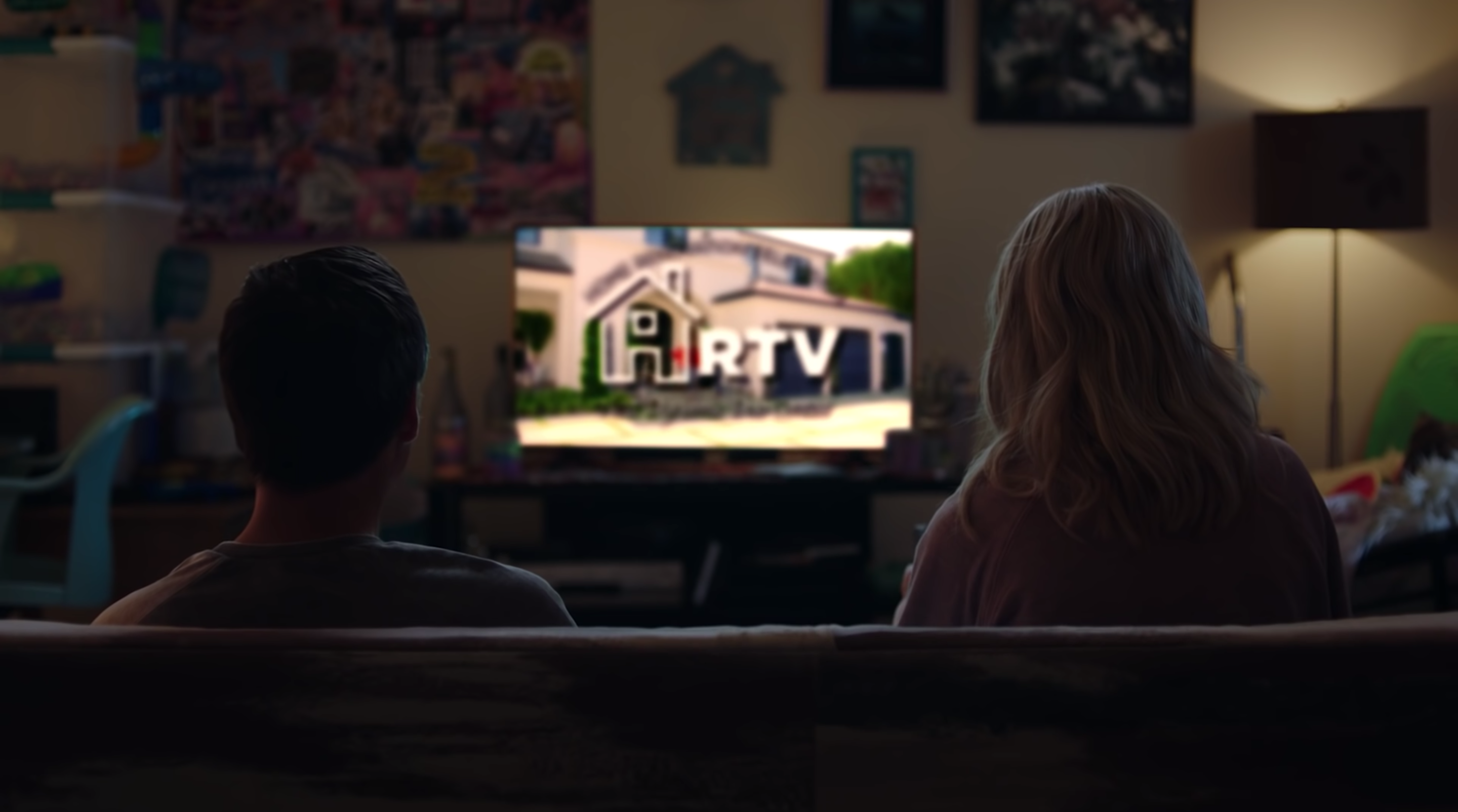 Image: Quibi
Flipped
The Funny or Die–produced show Flipped, starring Kaitlin Olson (The Mick, It's Always Sunny in Philadelphia) and Will Forte (The Last Man on Earth) as a painfully, painfully unfunny aspiring house-flipping couple, sounds okay on paper but fails completely in execution. It attempts to poke fun at the strong HGTV personalities of shows like Love It or List It and Flip or Flop and mix them with a "dramedic" cartel subplot—aka House Hunters meets Breaking Bad—but not a single joke lands in any of the available episodes, and the typically funny leads are reduced to grating, one-note caricatures, with neither seemingly having any fun playing these characters. Despite the talent involved, this show shouldn't even exist on the Funny or Die website let alone a separate streaming service.
Nikki Fre$h
This awkward, absurd comedy written, produced by, and starring Nicole Richie is either one of the dumbest things I've ever seen or the greatest mockumentary ever made. In it, Richie creates a hip-hop alter ego, the eponymous Nikki Fre$h, who develops a new music genre called "Parent Trap" and sings about plants. Benji and Joel Madden are in it. The definition of "twunk" is given. There are fake music videos with messages about real-life environmental issues. It truly has to be seen to be believed.
Favorite moment so far? Richie introducing herself to Bill Nye as "Nikki Fre$h, trap icon."
Yeah, okay, never mind, this show is brilliant.
Image: Quibi
Most Dangerous Game
Stop me if you've heard this one before: A man with cancer must go to extreme odds in order to financially support his family. Like many scripted Quibi shows, Most Dangerous Game's premise feels lifted from an already popular show (in this case, Breaking Bad) seemingly to appeal to a greater audience. Sure, the aforementioned "extreme odds" aren't "cooking crystal meth" (they're "signing up to be hunted and potentially killed"), but it's still nothing we haven't seen before in countless better movies and shows.
That's not to say the show is all bad. Luke Hemsworth (Westworld, The Hunger Games) and Christoph Waltz (Django Unchained, Inglourious Basterds) deliver watchable enough performances as cancer man Dodge Maynard and mysterious I'll-help-you-financially-if-you-agree-to-be-hunted man Miles Sellers, respectively. It's decently filmed too. But so far the "most dangerous game" is mostly just…boring? Episodes two and three bring all the momentum of the first to a screeching halt via flashbacks that reveal nothing we hadn't already inferred from episode one. And with each episode feeling like one long scene full of exposition, it can feel like even the eight-minute runtime can drag, but here's hoping the inevitable hunt itself will offer more excitement in the coming days.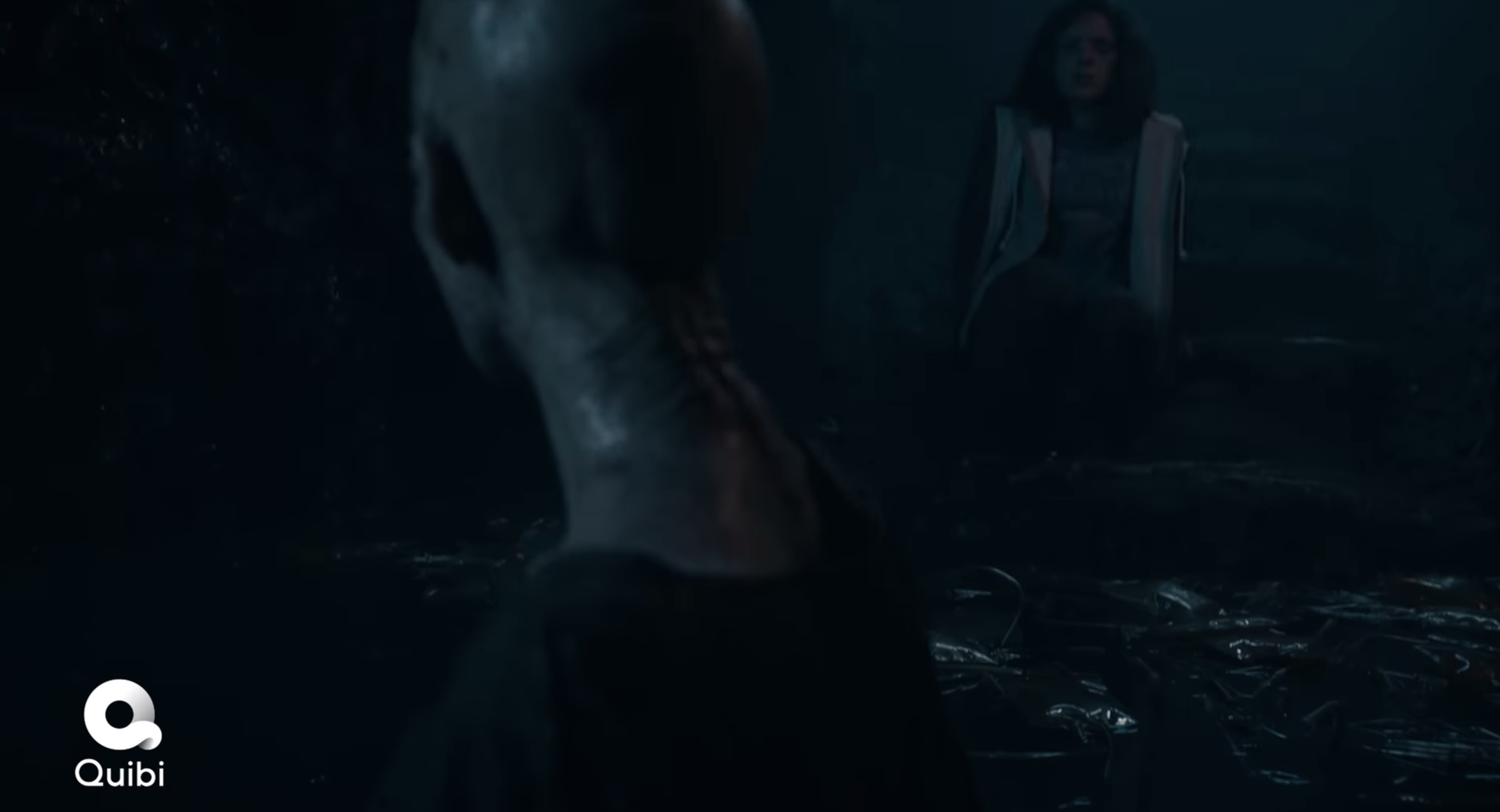 Image: Quibi
50 States of Fright
This horror anthology written and directed by Sam Raimi tells a chilling story based on urban legends from every state in the US. Alternating between narration and live reenactment, each episode mixes humor, gore, and terror in classic Raimi fashion. The first three-part story, set in Michigan, features The Marvelous Mrs. Maisel's Rachel Brosnahan and has twists and gore in equal measure. This one's a must-watch for horror fans and feels right at home on Quibi.
Image: Quibi
Survive
Quibi's answer to Netflix's 13 Reasons Why stars Sophie Turner (Game of Thrones, Dark Phoenix) as Jane, a young woman whose PTSD and suicidal ideation intensify following a devastating plane crash. She's rehabilitating at a place called Life House alongside people with a range of mental illnesses, including Paul, played by Corey Hawkins (Blackkklansman, Straight Outta Compton), the only other survivor of the crash.
I compare it to 13 Reasons Why only because there's a lot of voice-over and a lot of graphic imagery of self-harm. I'll give Survive some credit for attempting to depict mental illness in a more mature and serious way, but unfortunately its writing and performances fall flat, making it feel like it's just trying to be edgy. I was hoping for a more nuanced story, but when close-ups of blood-covered razor blades filled my phone screen a few minutes into the first episode, that all but went out the window. For a show that tackles similar subject matter but in a much better way, I'd suggest checking out Facebook Watch's Sorry for Your Loss.

UNSCRIPTED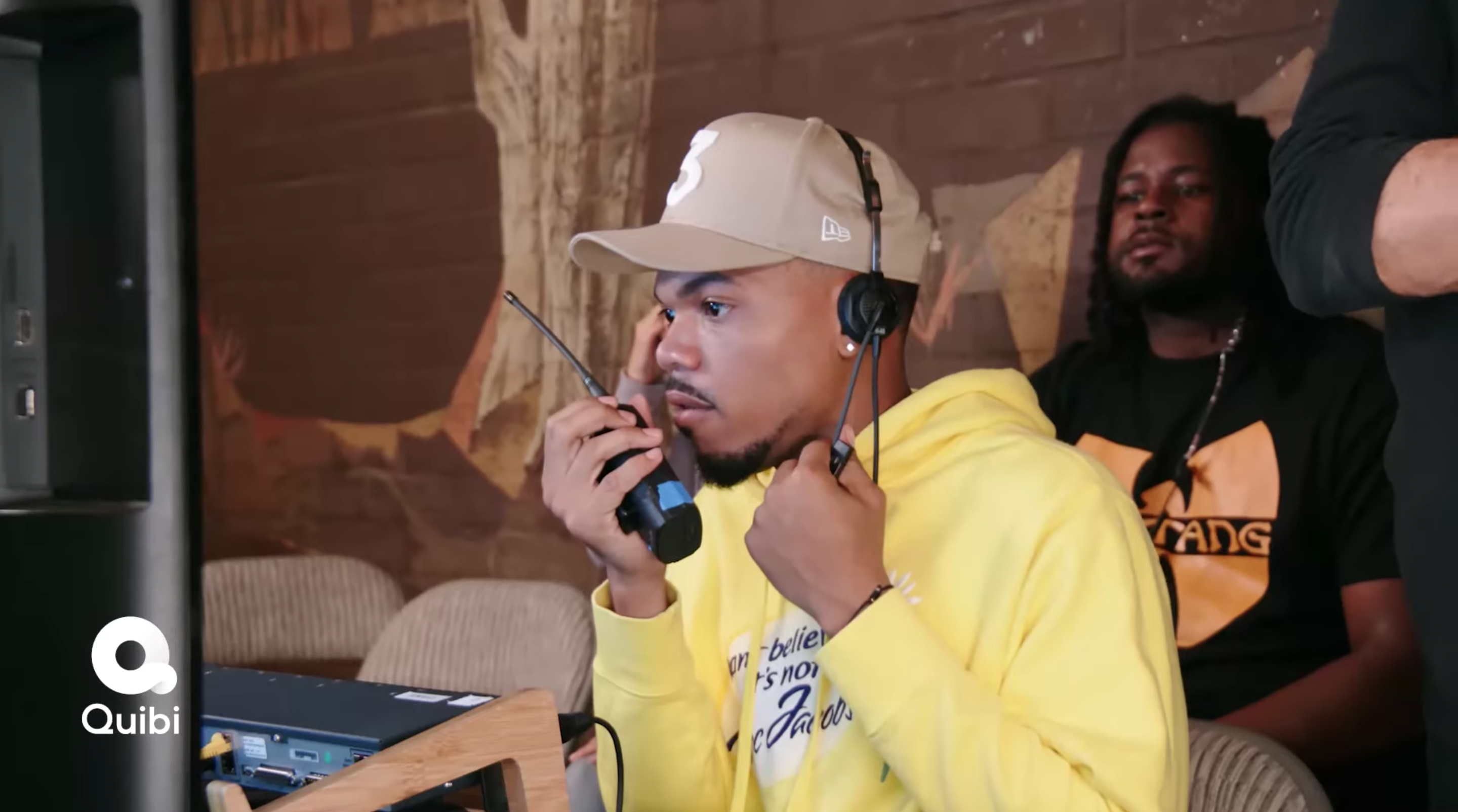 Image: Quibi
Punk'd
There's not much to say about Punk'd that you probably don't already know: Celebrities are secretly filmed during a scary or embarrassing prank before the host eventually comes out and yells, "You just got punk'd!" From 2003–2007, that host was Ashton Kutcher, but now, thirteen years later, Chance the Rapper has taken over punking duties, and it's a riot. I knew only a couple of the celebs who get punk'd in the first six episodes (most are YouTubers or TikTokkers who are hip with the teens), but I was still laughing out loud and gasping at the surprisingly large-scale pranks.
As someone who grew up on the original, I was overcome with so much nostalgia while watching, and I could tell Chance was having a blast doing it too. My only minor quibble is that a few of the pranks escalate so quickly that celebs immediately call the police or 911 without getting stopped, which is really shitty for, you know, people who are actually dying or in trouble.
All the Feels
This cute, emotional, super-short series from The Dodo follows pet owners and their lovable fur babies. Each weekday, a new story is shown around a theme: Today's is Motivation Monday and follows an abused three-legged puppy who is rescued and given the chance at a life full of love by her forever parents. Clocking in at just three minutes, I could see All the Feels being a nice little morning pick-me-up to watch as you get ready for work or if you commute via public transportation every day.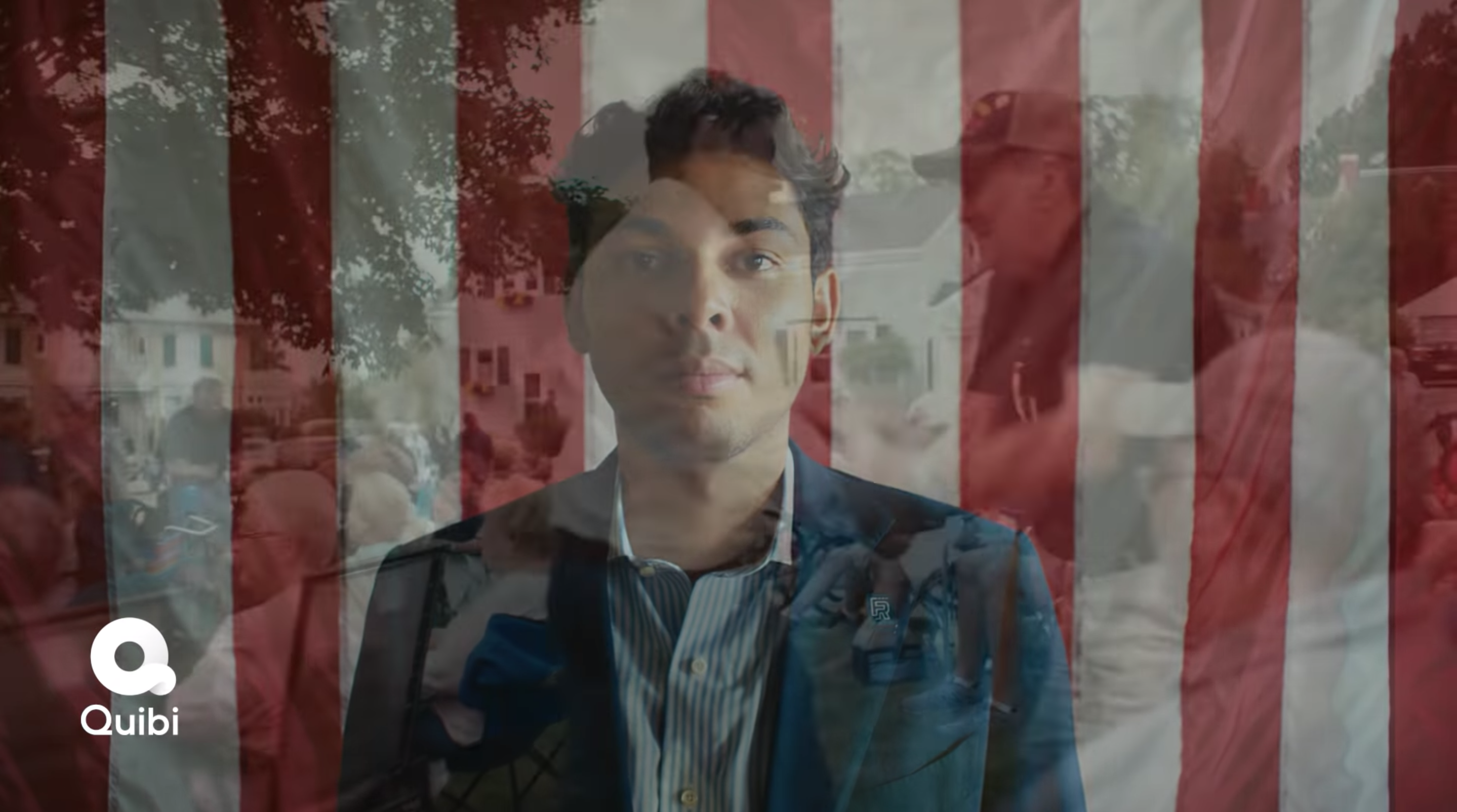 Image: Quibi
Run This City
Quibi heard you like true crime documentaries, so here's this story about corrupt 23-year-old Fall River, Massachusetts, mayor Jasiel Correia. When he becomes the youngest elected mayor in the city, it's all excitement and hugs from his campaign team, but things soon take a turn when he's indicted on charges of fraud and extortion. Correia is presented as a bit of an antihero—some people love him, some people hate him, a former city councillor notes—but Quibi leaves it up to you to decide if this young politician has created real change in his city or is just a con artist.
Prodigy
Each episode of Prodigy follows an up-and-coming young athlete in a different sport, highlighting their dedication, perseverance, and personal story in addition to their physical strengths and talents. This well-filmed and compelling series inspires us to believe these kids might be household names in just a few short years, and I believe it. The only bad part? You're probably going to feel like you've been a little lazy lately after watching.
&Music
Much like Netflix's Abstract: The Art of Design, which explores a different aspect of design in each episode (stage design, graphic design, footwear design, etc.), Quibi's &Music focuses on [Something] & Music. (Get it??)
The first three episodes tackle Light, Dance, and Mind, and it's interesting to hear how each contributes to the success of a large live performance, but ultimately even these short episodes didn't hook me the same way Abstract's much longer episodes did. So far, it feels too limited in scope and favors spectacle over substance.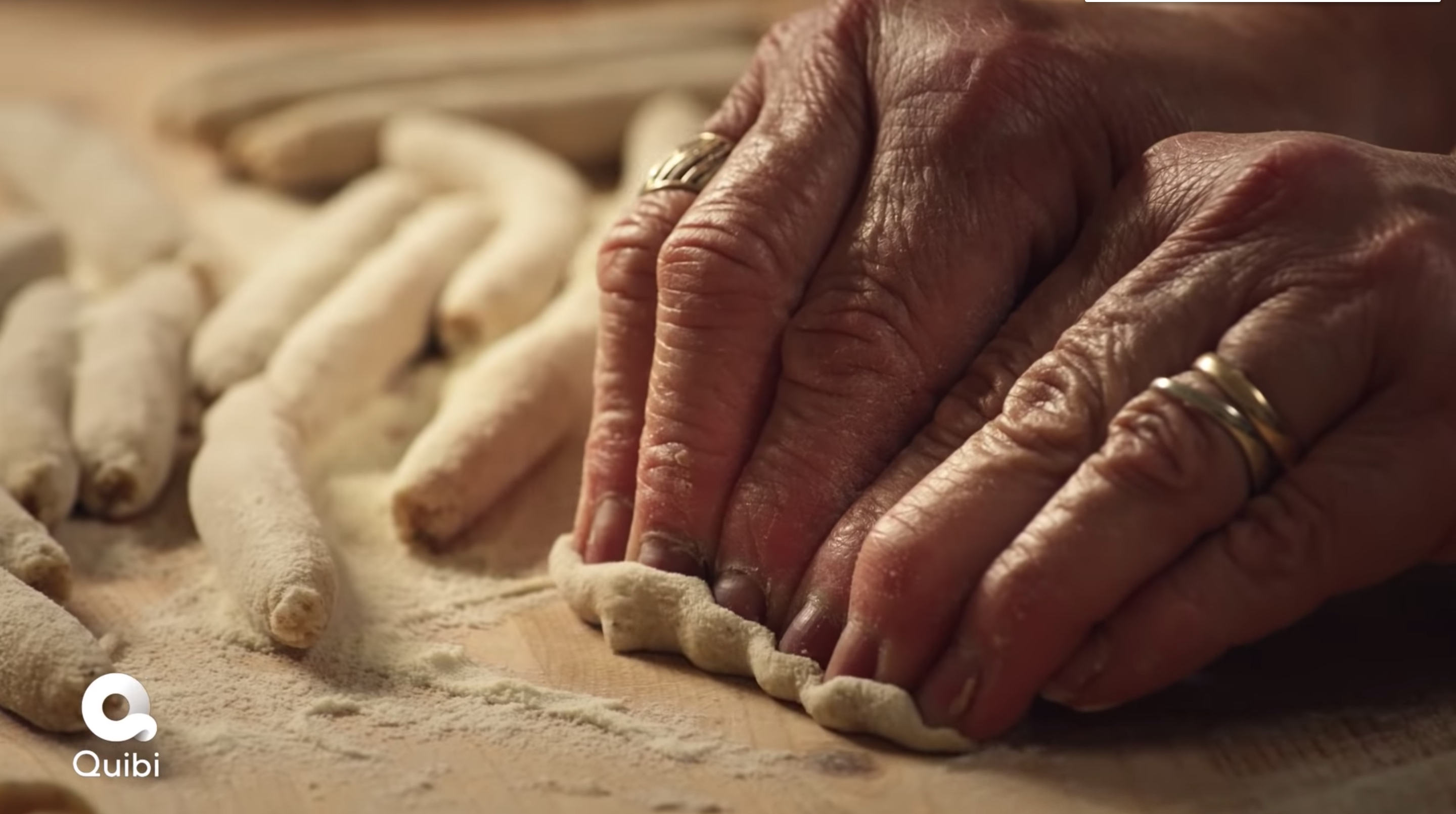 Image: Quibi
The Shape of Pasta
Fans of Netflix's Chef's Table and pasta in general will find a lot to love in this carb-loaded cooking docuseries. Chef Evan Funke is a lovable teddy bear with a soothing voice who travels to—where else—Italy to learn about lesser-known pastas from master women pasta makers. The stunning vistas of Italy will make you want to book a trip as soon as quarantine is over, and the gorgeous shots of Evan learning to make various pasta shapes is ASMR-worthy. This show is pure joy—just don't go into it hungry.
The Sauce
No, this sadly isn't another cooking show. This straightforward city-hopping reality dance competition pits two up-and-coming dance teams with strong online followings against each other for a chance to win $25k. The hosts, Ayo & Teo, give the groups three dance moves to incorporate into a routine within thirty minutes, then Ayo & Teo and a guest judge critique the routines based on their control, technique, and emotion. It's less about epic dance battles and more about showcasing cool young talent, so it's all good vibes and smooth moves here. Are you ready to Step Up 2 the Quibi? (I'm sorry.)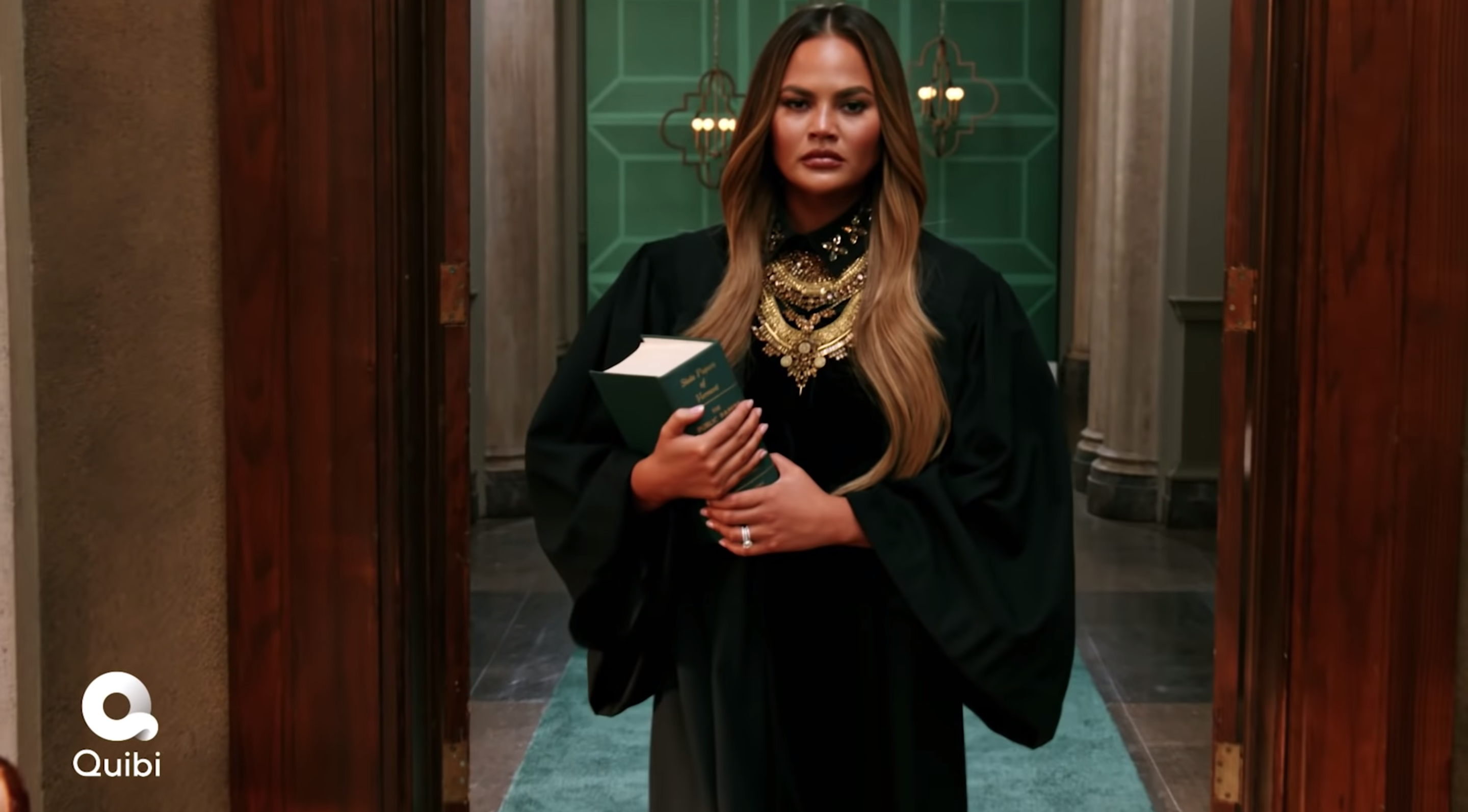 Image: Quibi
Chrissy's Court
The idea behind this show basically sells itself: Judge Judy, but the judge is Chrissy Teigen, model, Queen of Twitter, and wife of 2019's Sexiest Man Alive. Somehow, she is able to preside over and make rulings on real-life small claims cases, but that's not really the point. The point is Chrissy Teigen making jokes about stupid people who did stupid things, and it's a lot of fun if you can suspend your disbelief about the reality of the court proceedings. It's a little awkwardly edited and a little too over the top at times, but there are certainly worse things to watch on this app.
Memory Hole
Will Arnett (Arrested Development, BoJack Horseman) hosts this incredibly random trivia show that's neither game show nor talk show; it's just Arnett standing in front of a computer-generated black hole mansplaining some random subject to us (there's not even an audience or laugh track). While there are some semi-interesting tidbits throughout, I guess, it tries extremely hard to be funny and mostly falls flat. I love Arnett, but even in these short segments he's a grating host.
Two minutes into episode one, Arnett, an older white man, tries to joke about how rap first had to be "explained to us by an old white man." It's just…so awkward.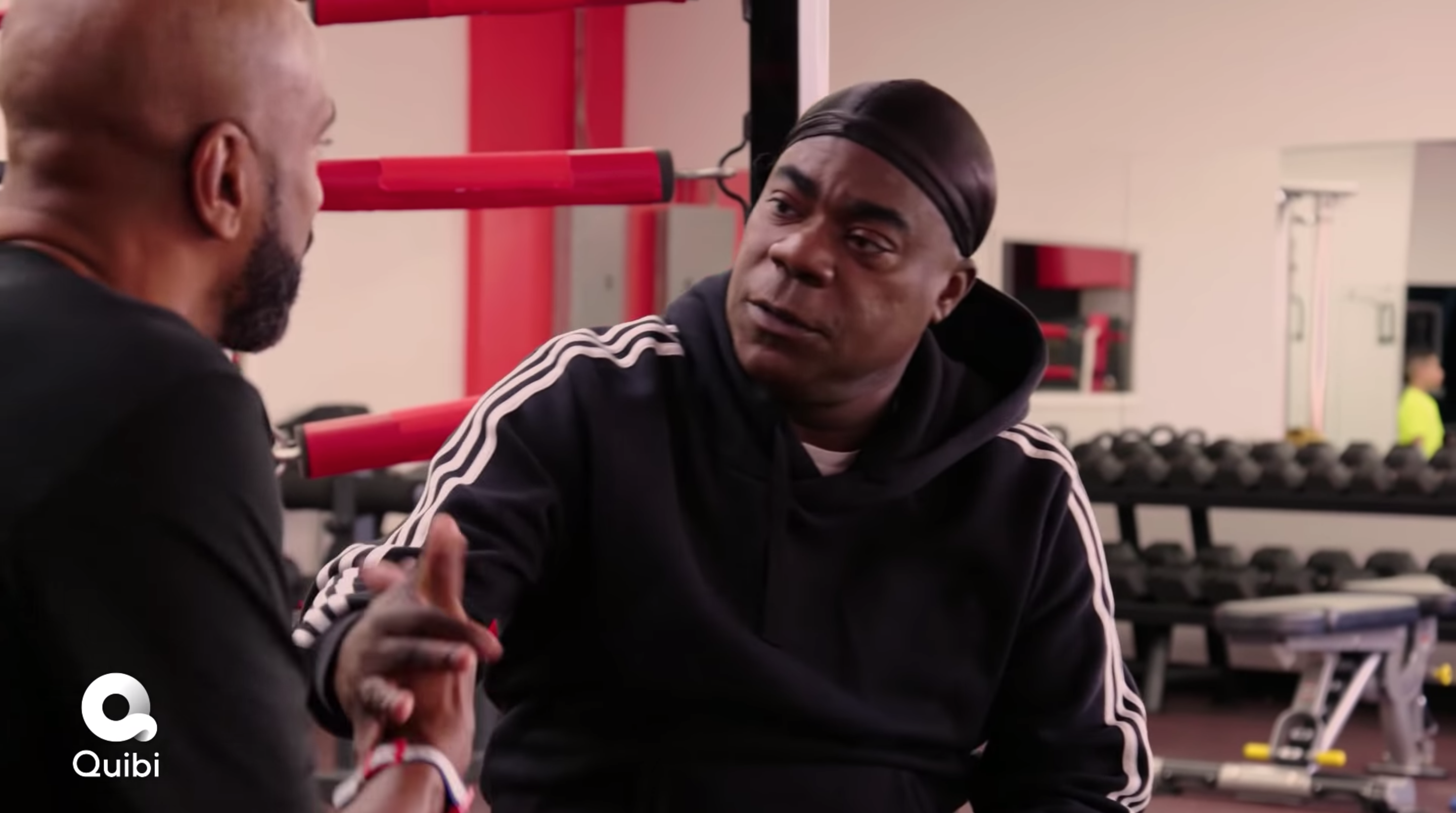 Image: Quibi
Thanks a Million
Jennifer Lopez hosts this feel-good series about very rich celebrities who give away $100k to people in need. The celebs are tasked with surprising someone who has touched their lives in some way—a fan, a medical professional, etc.—with the money, and the heartwarming stories are sure to make you shed a tear or two.
My only qualm is that the show pulls a fast one with its participants: After the hundred thousand is placed in front of them, the celeb tells them they must share half of it ($50k) with someone else who has touched them, then that person must give half of their share ($25k) to someone else. The "chain of gratitude" is a super-nice idea in theory, but I wish the full amount weren't dangled in front of these people in need like a carrot on a stick. Despite the kind intention, it feels a little icky to turn charity into a "game of gratitude." But in the end, the happy tears, hugs, and overall good vibes are contagious and worth it.
Gone Mental with Lior
This show about a mentalist messing with celebs' heads is Quibi's version of Netflix's Magic for Humans. It's a lot cheesy and probably more than a little staged, but it's not the worst way to spend a few minutes? Still, Lior is no Criss Angel or David Copperfield, so you're not missing much if you decide to skip.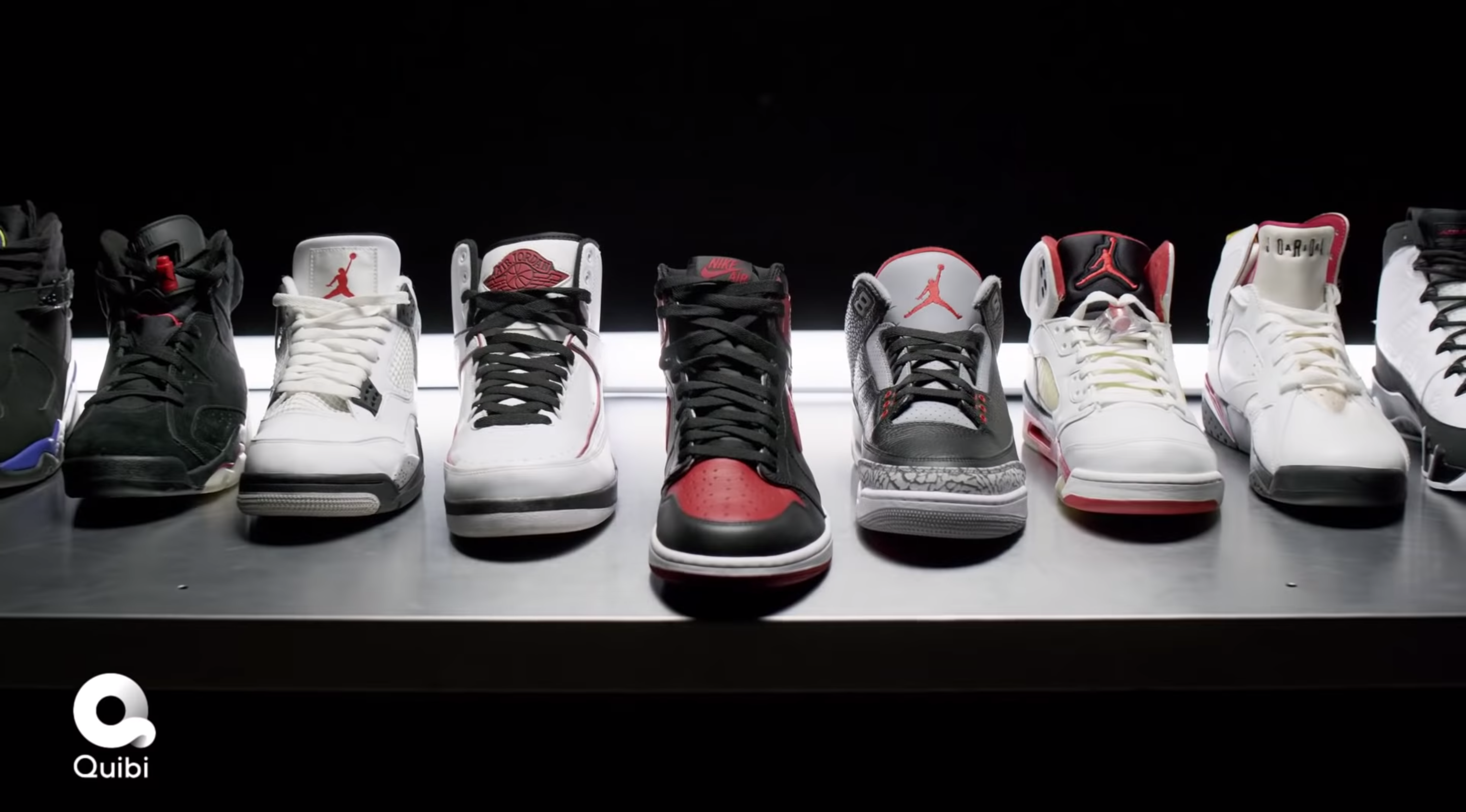 Image: Quibi
You Ain't Got These
"This is not a show about sneakers. This is a show about sneaker culture," Emmy award winner Lena Waithe tells us at the beginning of You Ain't Got These. Though there are some moments of self-indulgent shoe porn, where the camera longingly pans across someone's immense sneaker collection, this docuseries is more concerned with exploring what it means to be a "sneakerhead" and how shoes have had such a large impact on Black culture. Unlike Skrrt with Offset, another Quibi original (reviewed below) that never gets past its "cars are cool; let's drive 'em" premise, You Ain't Got These is compelling whether you care about shoes or not.
In 2017, I watched the "Tinker Hatfield: Footwear Design" episode of Netflix's show Abstract: The Art of Design, and it completely changed how I thought about sneakers. I've only bought Nikes since. While Abstract instilled in me a greater appreciation of the people designing shoes and their designs, You Ain't Got These made me appreciate the people wearing, collecting, and cherishing them.
Singled Out
Keke Palmer hosts this rebooted MTV dating game show in which so much happens so quickly it feels like swiping through Tinder in real time. For that reason, it's kind of a nightmare…but, also like Tinder, it's a nightmare I had trouble looking away from. The setup? A single contestant sits in a chair with thirty potential matches standing behind them, all of whom the show claims the main person knows in real life. Then the person in the chair answers dealbreaker questions to quickly whittle them down, eventually leaving just a few who give their best "sliding into your DMs" message (e.g., "I wanna bury my bone in your backyard"—a real example from the show) and compete in an absurd but meaningless challenge to prove how eligible they are.
One minute, the main contestant is divulging a sexy fact about themselves; the next, two grown men are kissing literal bugs out of a tank or racing vibrators down a finish line. And because these episodes are just six minutes long, I truly mean from one minute to the next. Still produced by MTV, this new Singled Out is updated for Gen Z, and…well, I'm both scared and titillated.
Sexology with Shan Boodram
Intimacy educator Shan Boodram sits down with real people to talk all things online dating, sex, and relationships. She provides some interesting insight into the world of dating in 2020 with some facts to back up some claims, so if you're looking for help in any of the aforementioned aspects of your life, check it out. I'm certainly no expert, but the advice felt a little…simple to me? But maybe it'll resonate more with a younger audience.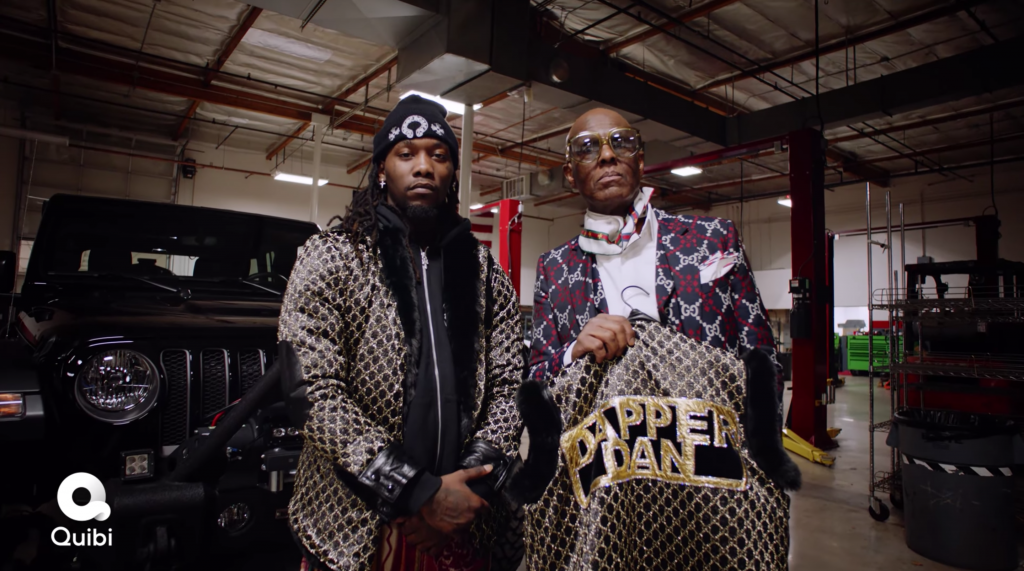 Image: Quibi
Skrrt with Offset
Do you like big modern cars? Do you like the rapper Offset? If so, you're in luck…because this show has a lot of both. Beyond thinking some old cars look pretty cool, I have zero opinions about them, so watching Offset test the validity of a $500k bulletproof tank/SUV monstrosity did absolutely nothing for me. But I guess I can see the appeal for, like, Monster-pounding bros? I just don't know.
Gayme Show
Hosts Dave Mizzoni and Matt Rogers pit two straight people against each other in a trivia contest to see who will become "honorarily gay as fuck" and "queen of the straights." Each contestant is given a lifeline, or "life partner" (aka a queer celeb), to help them along. The games are cute, funny, and very gay—not to mention the final challenge, "Make! An! Entrance!", has both straights walk the runway in the gayest way they can muster—making this a worthwhile Quibi Follow for gays and honorary gays alike. It made me smile a lot.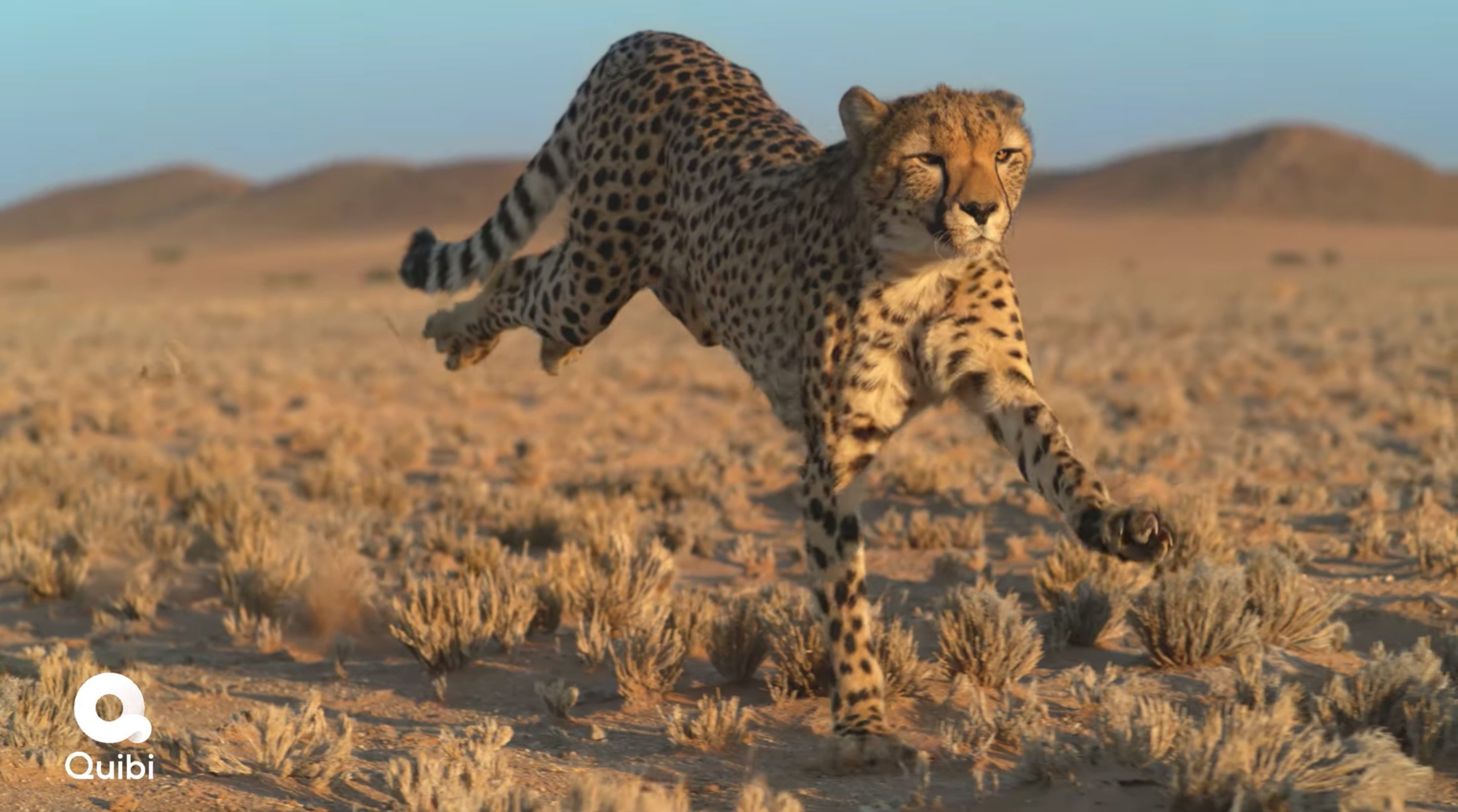 Image: Quibi
Fierce Queens
Reese Witherspoon narrates this nature docuseries about fierce female animals that tries way too hard to be a "different" kind of nature doc. Witherspoon's narration sounds like she's reading a bedtime story to a twelve-year-old, adding unneeded loaded emotional language to otherwise decent footage of animals in action. The show feels extremely out of place within Quibi's launch-day library, and I doubt even Quibi's target audience will make it through even the first episode. The next Planet Earth this is not.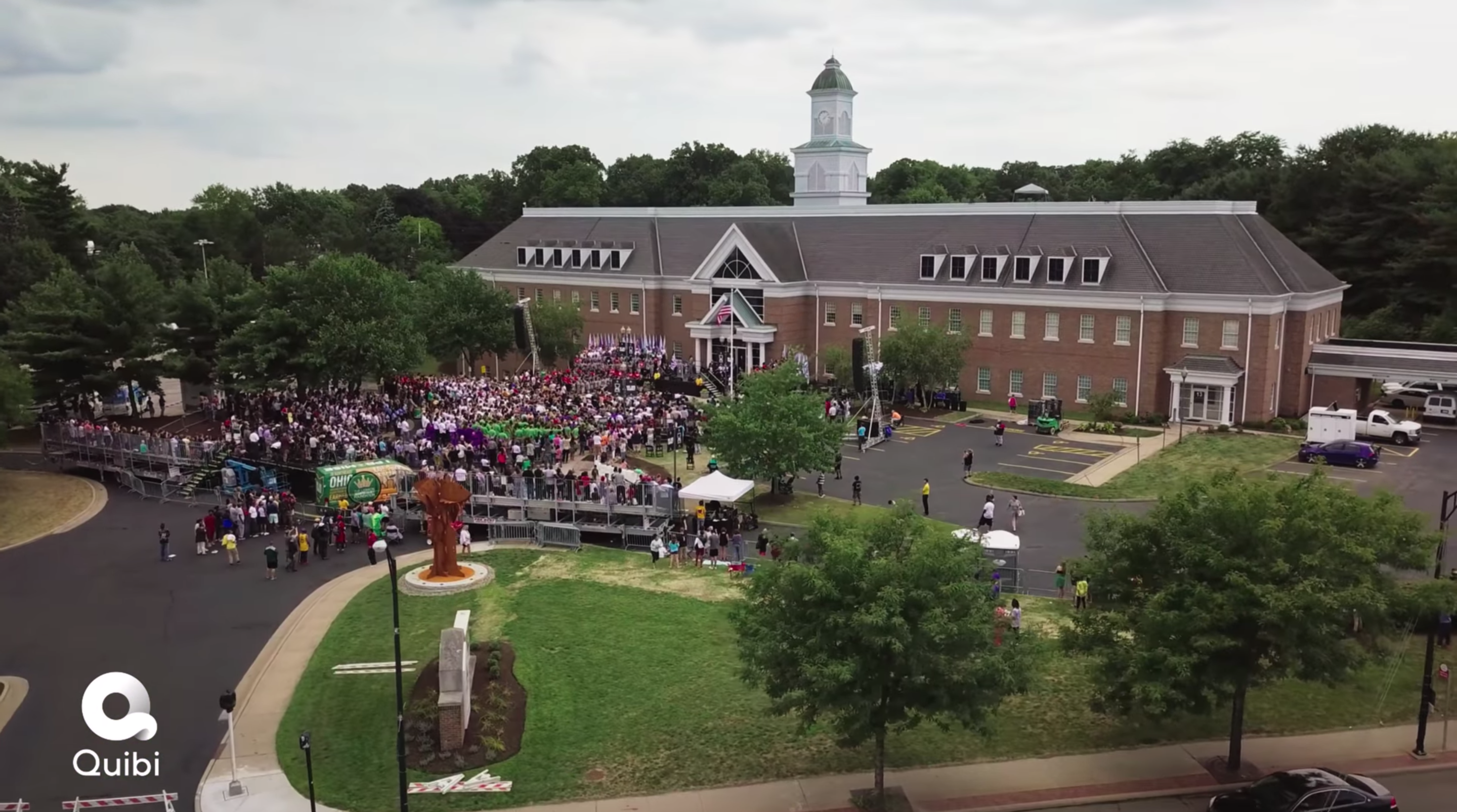 Image: Quibi
I Promise
This heartwarming docuseries follows the students at I Promise School, a public school in Akron, Ohio, supported by the LeBron James Family Foundation that aims to help at-risk children. Many of the students have experienced trauma and hardship in their lives, and the I Promise School was created to keep these kids on track to graduate. Their stories, the teachers' stories, and even LeBron's own story are all filled with hope and inspiration, and it's amazing to see how the kids all thrive when given adequate resources and attention.
Murder House Flip
What happens when you mix the world's fascination with true crime and the world's obsession with HGTV? Murder House Flip, Quibi's fantastic reality show/docuseries mash-up. As the title suggests, the show follows two designers, Mikel Welch and Joelle Uzyel, who "flip" (aka redecorate and slightly rebuild aspects of) various homeowners' houses in which a person (or many people) had previously been murdered.
About a third of the show is spent telling the broad strokes of the murders, with nice illustrated animations accompanying real-life videos and photography, and the rest is dedicated to the redecoration. (My favorite little detail? The animations used to show the designers' plans for the house are in the same style as the ones used for the murders.) This show knows exactly what it is and embraces it, and for that I respect it very much.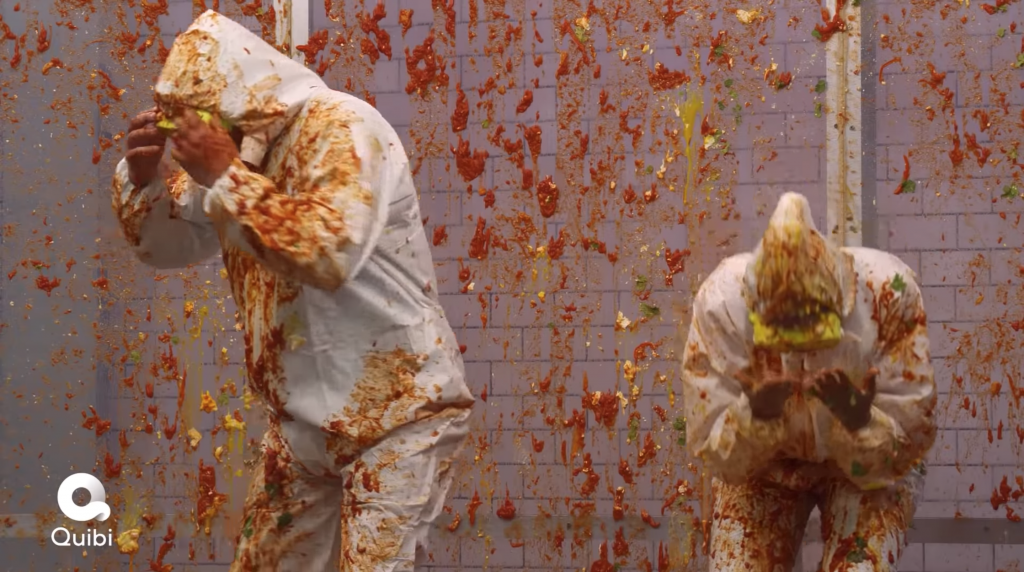 Image: Quibi
Dishmantled
Dishmantled is a fun, simplistic cooking competition hosted by Tituss Burgess of Unbreakable Kimmy Schmidt fame. After being blasted by food cannons while blindfolded, two fledgling cooks have thirty minutes to eat, smell, and touch the blasted food before trying to re-create it. The chef who gets closest to the actual dish wins $5,000, with overall taste and presentation not factored in.
It's quirky, it's quick, and it perfectly fits the mold of what Quibi is all about. If you binge-watch, the show's formulaic structure and Tituss' energy could get old pretty quickly, but if you watch each new episode daily as Quibi intends, it's a cute filler show.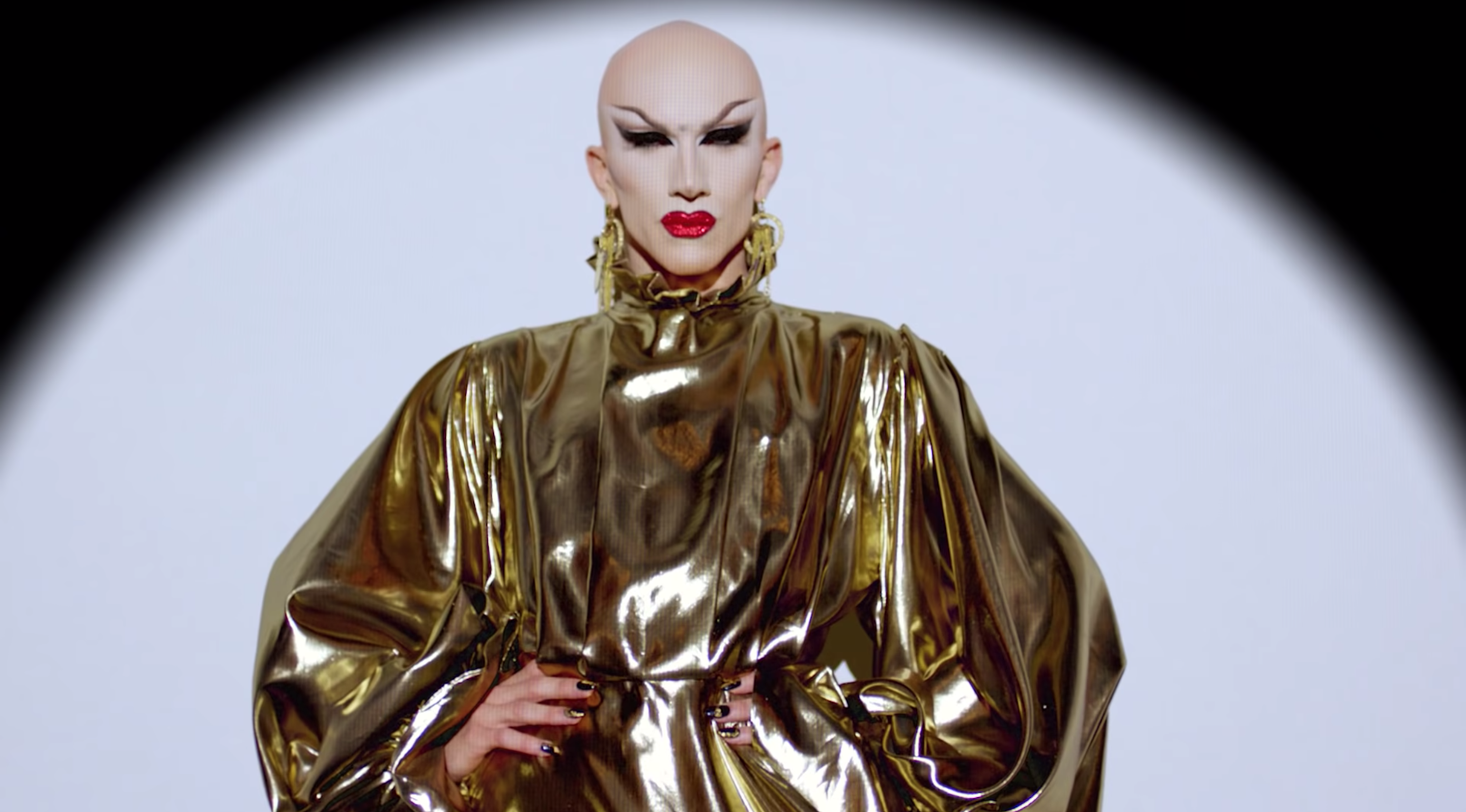 Image: Quibi
NightGowns
In June 2017, drag queen Sasha Velour raised her wig, showering herself in rose petals, and was crowned America's Ninth Drag Superstar on VH1's hit reality show RuPaul's Drag Race. In Quibi's NightGowns, named after Sasha's live events/queer community safe space, we follow the queen; her partner, Johnny; and the NightGowns group of drag queens and kings as they prepare for their next big performance. Whether you know nothing or everything about Sasha Velour and drag, you'll love this behind-the-scenes look at the queen and her craft, which explores drag as art and creating a safe space for people who identify as queer, with cinematography as gorgeous as Sasha herself.